We are Erasmus Student Network and we are here to help you get prepared for the best year of your life – ERASMUS in Bratislava. As every year, lot of students from all around Europe decide to visit our little home, and although it is hard to imagine what will your stay here bring, what we know now, is that you will meet great people, experience great events, learn something new about world and ultimately about yourself. Because honestly, in the end its about getting a new perspective about independence out here far away from home. As ESN we also want to be part of your amazing experience and therefore we are here to help you with everything you need.
The City: Bratislava
Bratislava, the capital of Slovakia, is the biggest city in our little country. Situated on the river Danube, Bratislava is home to about 500 000 people. It is the only capital city in the world, which borders two independent countries! (Austria and Hungary)
If you're a German speaker, you may be familiar with Bratislava's alternative name Pressburg. But it doesn't stop there. If you see Prešporok, Posonium, Pozsony or Istropolis mentioned somewhere, they're talking about our capital. Another very commonly used name is Blava, but never ever mention that to a Bratislava native, they will bite your head off. ;) 
Bratislava also serves as the political, economic and cultural centre of the country. That means that you can find everything here; parliament, president, the National Museum, Gallery and Theatre, business headquarters and several universities, one of them being the Comenius University, the oldest and biggest in Slovakia, your hosts' alma mater. 
The city's landscape has quite few famous trademarks. First of all, the 'upturned table' castle. Located on a hill next to the building of the Slovak parliament, it provides a beautiful view of the city's scenery (especially lovely at night). Then, there's the well-known UFO, a restaurant in the shape of a disc on the Bridge of the Slovak National Uprising. Another unique building is the upside-down pyramid of the Slovak Radio.
Not exactly part of the landscape, but we cannot leave out the various statues you may see while walking around the Old Town. Namely Čumil (Man at work) - peeping out of the canal, Napoleon casually leaning on a bench or always smiling Náci greeting you with his top hat.
Nightlife in Bratislava
There are various night clubs in Bratislava:
Culture and art in Bratislava
Sports
various running and cycling tracks, lots of running marathons during year
more information about sport here
Official Bratislava app
The official application of the city of Bratislava offers both domestic and foreign visitors interesting and useful information that will help you and make your stay in the capital more pleasant. Thanks to the application, you'll know what's going on in the city, what to visit and how to get there. Enjoy the best of Bratislava. The official Bratislava App includes updated information about top attractions, sightseeing, restaurants, shopping, events, transport and much more. The app can be used offline, when data roaming is turned off.
GET IT NOW HERE!
Bratislava City Card
Bratislava City Card offers discounts to all visitors of the Slovak capital and enables everyone to experience the best of what Bratislava has to offer. 
MAIN CARD BENEFITS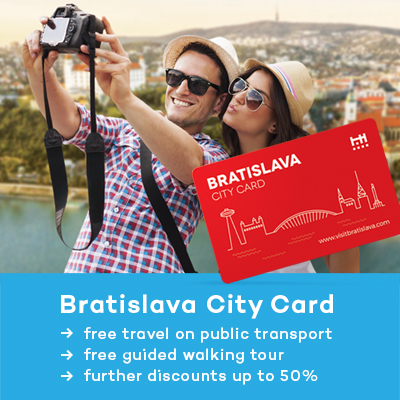 Free unlimited travel on the public transport network in the zones 100+101 (trams, trolleybuses, bus lines 20 – 799, night lines N21 – N99 and train routes S) 
Free hour-long walking city tour in Slovak, English, German, Spanish, Italian and French
Free trilingual guide for the card holders
Discounts up to 50%
More information here. 
There are plenty things to do in Bratislava, we've mentioned just a few. You can find more information about cultural life in Bratislava on these websites or ask your buddy J
http://visit.bratislava.sk/EN/
https://bratislava-slovakia.eu/